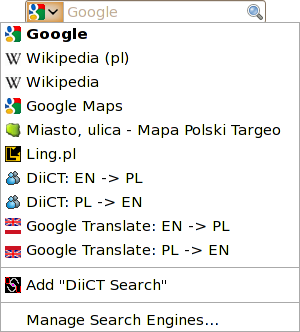 Search engines for Mozilla
---
If you are using Mozilla you can add some useful search engines to your browser using this site. With no need to wander around the internet.
Ling.pl - very good multilanguage dictionary
DiiCT.com - very good and fast multilanguage dictionary
Google Translate: English to Polish - useful and easy contextual dictionary
Google Translate: Polish to English - useful and easy contextual dictionary
Wikipedia - indespensable and irreplaceable
Mapa Polski Targeo - very exact map of Poland, better then Google Maps
Google Maps - search the world
Youtube - you know, everybody likes to watch TV
Click on Search Engines arrow to add it to Firefox. Arrow should be located near Search box in right upper corner of your browser window.

See also:
---
Brought to you by JS.