Principal Investigator: prof. dr hab. Igor Soszyński
Place: Astronomical Observatory of the University of Warsaw
Project duration: 2017-2022
e-mail: soszynsk@astrouw.edu.pl
A group of astronomers from the Astronomical Observatory of the University of Warsaw led by Professor Andrzej Udalski carries out one of the largest observational projects aimed at searching for variability in the sky. The survey named the Optical Gravitational Lensing Experiment (OGLE) is conducted with a dedicated 1.3-meter Warsaw telescope located in the Chilean Andes - at one of the best sites on Earth suited for astronomical observations. The project regularly observes about two billion objects in the Milky Way and nearby galaxies, providing long-term time-series data that can be used for detecting and studying variable stars of all types.
The aim of the research project "Imaging of the Galaxy with pulsating stars" was to discover tens of thousands of new Cepheids, RR Lyrae stars, and δ Scuti stars (collectively referred to as classical pulsating stars) and use these objects to explore the three-dimensional structure of the Milky Way. Classical pulsating stars are the most commonly used standard candles, i.e. objects to which the distances can be precisely measured thanks to the period-luminosity relations obeyed by these stars. Until recently, the vast majority of the Galactic Cepheids were known in the Sun's neighborhood, up to about 10 thousand light years away from us. As a result of the project, the number of known Cepheids in our Galaxy has been multiplied, filling the gap in our knowledge about the outer regions of the Milky Way.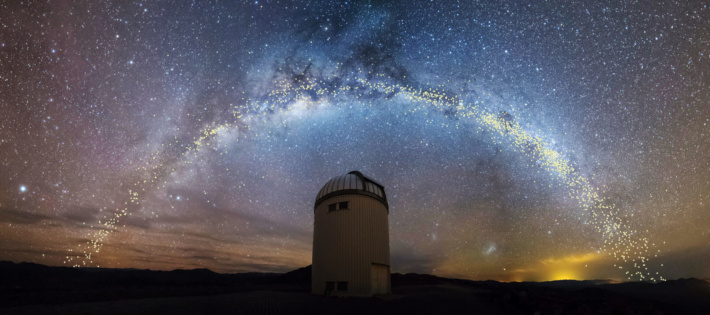 The Warsaw Telescope and Galactic Cepheids from OGLE (K. Ulaczyk / J. Skowron).